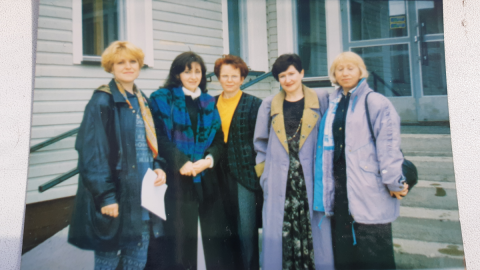 We celebrate the 30th anniversary of the Calotte Academy. The Academy was born with a mission of becoming an alternative model for conventional academic conferences in the North Calotte region. Three decades later, it raised up as an exceptional "school of dialogue" among the research community and northern stakeholders, as well as among senior and young researchers in the European Arctic. Today the Calotte Academy is known all over the Arctic and beyond as a unique travelling symposium and doctoral school with a remarkable history.
Anniversaries are a time to honor those people who were part of key achievements. First, I bring my congratulations and deep and infinite respect to Dr. Lassi Heininen, who has been the constant mastermind and engine of the Academy, and whom I considered my teacher through all these years.
Many other people have stood and continue to stand shoulder to shoulder with Lassi, helping to bring ideas to life. I cannot mention all the names of these hardworking Calotte Academy enthusiasts here. I will refer to only one name on our Russian side – Ludmila Ivanova, my colleague and friend at the Luzin Institute for Economic Studies of the Kola Science Centre in Apatity. For decades, she, as a member of the Steering Group, invested her work in the practical arrangements for the annual Calotte Academy activities on the Russian side. Congratulations and warmest wishes to every Calotte Academy friend working for its success!
For me personally, the Calotte Academy has become both a school and one of the most interesting events in international scientific life, as well as one of the best places fostering a warm human connection in the research community. I joined the Academy in the early 1990s, and for me it was a window to another world – the world of new academic knowledge and inspiring professionals, travels to unknown places and new cultural experiences, all these in the astonishing Arctic context.
For many years, every June, together with Ludmila, we were waiting for a white bus with the sign "Calotte Academy" to arrive at our city. The Academy bus usually drove up to "Ametist" hotel in the evening. A crowd of tired but cheerful people came out of the bus door, and with their arrival began the days full of lectures and live discussions, excursions, dinners, and dancing and singing together.
I wish the Calotte Academy bus to continue its great travel across the borders, both literal and figurative ones, and across time.
Thank you, dear Calotte Academy, and good luck on your future way!
***********
Photo: Participants and organizers of the Calotte Academy, mid-1990s, Finland. From left to right – L. Ivanova, L. Riabova, R. Kivilahti, N. Chesnokova, E. Bashmakova.